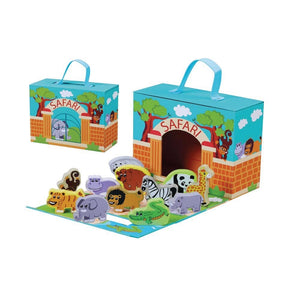 I absolutely love how this set of wooden toys with safari back drop folds away!  It's easy to tidy up, so is a great toy for at home but it is also great for taking out and about with you - lunch at friends, family visits, on holiday - little ones can bring it along with them and will happily play with the fun characters for hours. 
The box folds out to create a safari scene, and there are wooden animals that children can create their own stories, scenarios and scenes with.  
The box is made of firm cardboard, and closes magnetically, with a secure, strong woven handle for carrying it around.  All the play pieces are wooden. 
Dimensions: 42 x 25 x 17cm
Age: 18 months +