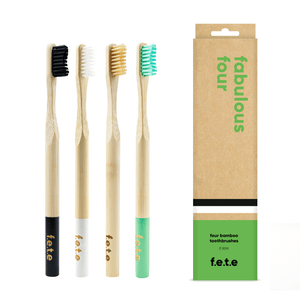 It is estimated that worldwide, 3.6 billion toothbrushes are used every year.  Around 80% of these end up in our oceans, causing harm to marine life and habitats. 
F.E.T.E - From Earth To Earth - bring you these eco-friendly toothbrushes in a range of colours. This pack of 4 adult toothbrushes will keep you going for 4-12 months, depending how often you change them.  It is recommended you change your toothbrush when the bristles become curved, bent or folded over. 
100% recyclable and biodegradable packaging 
The bristles are attached with pressure into the brush head, negating the need for glue. They are made from nylon, which is BPA free, and dentists say is the best material for toothbrush bristles.  Natural ones tend to be too harsh on gums and can cause damage.  They also retain moisture, so can be a breeding ground for bacteria.   
When your brush reaches the end of its life, pull the bristles out with pliers, and then the handle can be composted. 
The brushes are coloured with a natural resin paint, which is a kind of plant paint, so  you can compost the handle. 
Bamboo is an amazing material - it is the world's fastest natural renewing resource, and is also naturally anti-microbial, anti-fungal and anti-bacterial, which means it can grow without the need for pesticides. 
The bamboo used for these toothbrushes is moso bamboo, which is not eaten by pandas.
Customer Reviews
31 Aug 2020
Sarah W.

United Kingdom
Bamboo toothbrush
Great product, works well, looks good and better for the environment. Love this website, some really cute stuff. I'll definitely use it again.
01 Sep 2020
BambooBeautiful Ltd
Thank you for your review. So glad you love them!