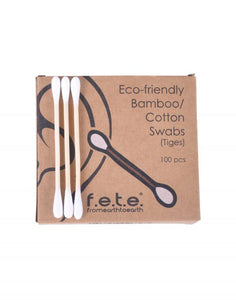 In the UK alone, it is estimated we use 1.8 billion plastic cotton buds a year.  Unfortunately, many of those end up our oceans and waterways.  And even the ones that don't will take still 500 years to break down. 

From April 2020, plastic cotton buds are banned in the UK.
These bamboo and cotton ones are the perfect alternative! You can use these for all your beauty, hygiene and craft needs. 
The stick part of these cotton swabs is made of Moso bamboo. The tips are made of natural cotton and grown without using chemicals
Supplied in a Kraft paper box which can be recycled once finished with.
100% compostable
100% biodegradable
Customer Reviews
I recommend this product
Love them
Nice to use, effective and kinder for the planet