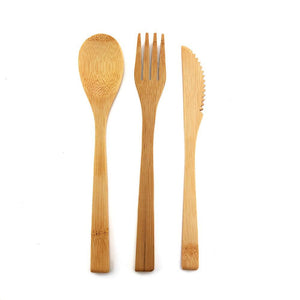 A much kinder alternative to disposable cutlery, this bamboo cutlery set is perfect for keeping in your bag for when you grab some lunch out, or for packing when you go on picnics. Extremely lightweight, you can take it anywhere!  
Each set comprises a knife, fork and spoon.
Bamboo is highly sustainable, so these are a great eco-friendly choice.
Re-useable, and you can wash it in the dishwasher.  And when it does come to the end of it's life, it's fully compostable.