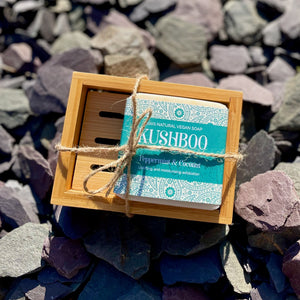 Give a beautiful gift of a 100% natural, handmade Kushboo soap paired with a bamboo Soap Dish. 
Pictured here with the Peppermint and Coconut Soap, but choose whichever soap you would like. 
These organic bamboo soap dishes are supplied to us by Kushboo soaps, who spent a lot of time finding the perfect one.  

The removable tray allows the soap to drain, keeping it dry and lasting longer, at the same time as making the soap dish easy to clean. 
The soaps are made in the The Ribble Valley England, with high quality, natural ingredients.  Vegan Friendly.