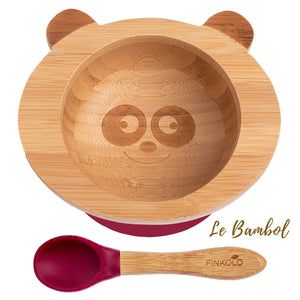 Made from 100% bamboo, these bowls are wonderfully smooth and tactile.  The properties of bamboo make them hygienic (bamboo is naturally anti-bacterial), plastic and chemical free, and completely eco-friendly. 
The suction cup allows you to secure the bowl to the table - no more spills and up-turned bowls!  
The spoon is easy to handle, so ideal for for both assisted and self-feeding.
This makes the perfect gift for loved ones' children - a solid and durable set which will get much use for many years to come. 
Also available in Frog and Cat
Cleaning:  The silicone suction ring is removable, making the bowl easy to clean.  Simply wash the bowl, spoon and suction ring in warm, soapy water.  Do not put in the dishwasher.