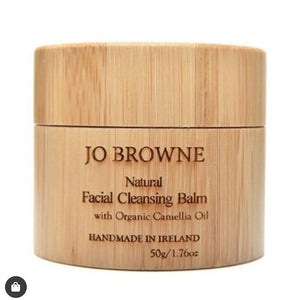 This luxurious facial cleansing balm contains Camellia Oil, which is considered a Miracle Oil for the skin thanks to its many beauty and healing benefits. 
It will nourish and revitalise delicate, dry skin, strengthening its protective barrier and replenishing the skin with vital skin nutrients.  
Leaves your skin feeling silky smooth, soft and supple 
50g
How To Use:
Melt a small amount of the balm between you fingertips and massage onto dry skin. Remove with your warm Bamboo Facecloth. Repeat if necessary.
As an extra treat for your skin twice a week, massage onto clean skin for 5 minutes.
Packaged in Jo Browne's signature eco-friendly bamboo pot. 
Jo Browne offer eco-friendly, luxury, handmade products from Ireland. Packaged in eco-friendly bamboo, the ingredients used are completely natural and everything is handmade and poured at their factory in Hackestown.