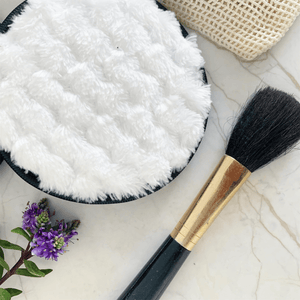 Ok, so these aren't made from Bamboo, but we love them so much, and they team so perfectly with our Bambu Babe Daily Care Bamboo Face Pads, we've made an exception.
Made from recycled microfibre, just add water to remove even the most stubborn make up, including water proof mascara.  No need for expensive make-up removers. Maintain the natural PH of your skin, while reducing your waste - these pads are long lasting and durable, and can be washed in the washing machine over 200 times. 
These Snow White pads are perfect for natural and light make up; for heavier make up, use the Charcoal Pads.  Twin Packs also available. 
BambuBabe are a new and exciting UK beauty brand who are all about making simple swaps that are good for you and the planet.  Their ethos fits perfectly with ours - that we don't need a few people doing low-waste perfectly, but millions of people doing it imperfectly.